Immerse yourself in the Hotel Giamaika swimming pool and laze on the sun beds in the shade of a beach umbrella while you read a book!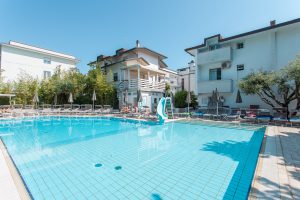 Hotel Giamaika is one of the best hotels with a pool in Cesenatico. It is situated in one of the most fashionable tourist destinations on the Romagna Riviera. We have a large heated pool (Pool at min 25° from June untill September) with a whirlpool and a solarium with comfortable sun beds and umbrellas which our guests can use free of charge. It is the perfect choice to swim, sunbathe and relax in company. In the whirlpool area, which is free, the water is shallower, and the pool is in a quiet area of the hotel. This means that you may prefer it to the beach, especially when it is windy!
At our hotel with a pool in Cesenatico there is a lot of space to rest and relax in the heated pool and also to have fun with your family. There is a games area for children and a special pool area for them with a playhouse and a slide to have fun and get to know other children in total safety. The area is in fact overseen by a lifeguard from 9.00 am to 1.00 pm and from 3.30 pm to 7.30 pm, for the peace of mind of children and parents alike.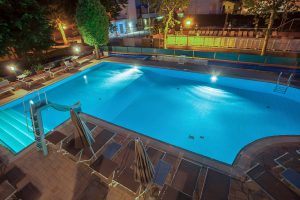 Changing cabins and shower cubicles round off a rich range of services that will make your holiday on the Romagna Riviera really special. But there is more: our hotel with a pool is located right by the beach with its fine golden sand, where you can sunbathe and listen to the sound of the waves. The beach is the perfect choice to have a swim, sunbathe and relax in the company of other people while your children have fun with games and tournaments that are especially organized for them. And if you prefer not to spend all your time sunbathing, you can play boules, table tennis and use the beach volleyball courts and pedal boats that are for hire.